MovinCool Portable Air Conditioners
Get Your MovinCool Portable Air Conditioner at Tozour Parts & Supplies
Provide chilled air exactly where it's needed to keep your team and equipment cool with a portable air conditioner. MovinCool AC units are flexible to your needs and cost efficient. These portable AC units have been designed to go where you need them in order to keep things comfortable.
Tozour is a reseller of MovinCool units. We can provide our years of experience and support for your MovinCool units.
Innovative Cooling System
MovinCool portable air conditioners are unique and self-contained. MovinCool was the first programmable spot cooler and the first and only portable cooler that are connectivity-ready for wireless IoT systems.
Flexible Solutions to Fit Your Needs
MovinCool provides a complete catalog of portable cooling solutions to fit your needs.
Climate Pro K Series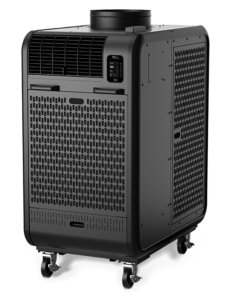 Ideal for offices, computer rooms, hospitals, schools, labratories, and more.
Made especially for commercial spaces where comfort is essential to productivity.
Cools to mid-60s °F — for effective heat control around electronics, servers, and computers.
Air-cooled models from 12,000 to 60,000 Btu/h — let you size efficiently for your space.
Climate Pro X Series
Ideal for warehouses, assembly lines, manufacturing plants, construction sites, and outdoor events.
Air-cooled units from 13,200 to 24,000 Btu/h — to handle temps as high as 113°F.
Three-speed fan and adjustable nozzles for versatile cooling comfort.
New X20! 115V/20 amp model (16,800 Btu/h)
Classic Series
Ideal for warehouses, assembly lines, manufacturing plants, and outdoor events.
Units from 10,000 to 60,000 Btu/h — for efficient sizing to your application.
Flexible duct extends up to 80 ft. — versatile, targeted cooling in hard-to-reach spaces.
Rugged design and construction — for superior performance in harsh environments.
Digital temperature controls — for clear and simple operation.
Tozour services the Greater Philadelphia and New Jersey area. We are a reseller of MovinCool units. Fill out the form below and our team will contact you with more information on our MovinCool products.